Today we wanted to share a few fun and creative food trends for your next event. The food you choose at event AND how it is served plays a major role in how guests interact, how guests feel about the event, and even how guests talk about your event later. That's why it's a great idea to have fun with the food and offer it in unique ways if possible. Obviously, the venue you choose for your event will dictate some of the options you have in terms of food, but most venues are fairly flexible and able to do a surprising amount of things.
As experts in Banff, we also know the venues in the Bow Valley well and if you have a particular food idea or food station in mind, we can help guide you to a venue that could pull it off. That's why working with local experts will always help make things easier and smoother!
Take a peek at some of these fun and creative food ideas for your next event: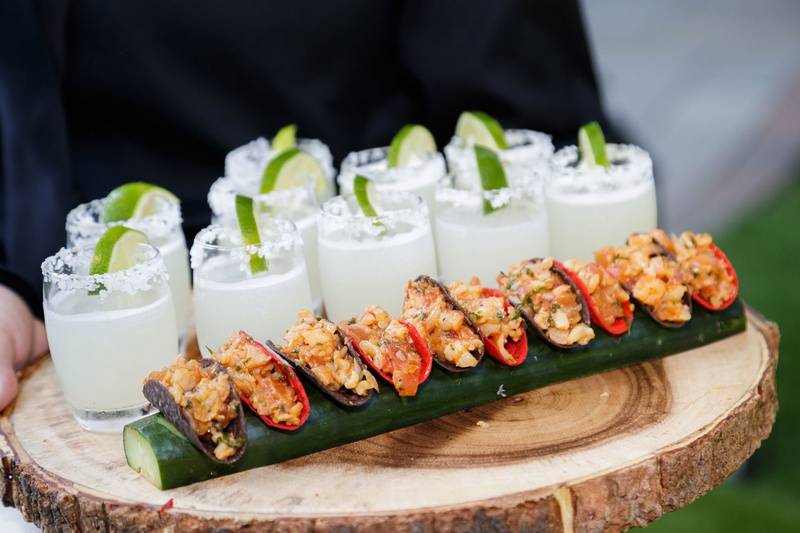 1. Mini Tacos & Margaritas
Mini food is always a lot of fun and everyone loves taco night - combine the two together and you have a really fun (and delicious) appetizer to go around for your guests that will have them laughing and enjoying themselves in no time.
2. Savoury Food Lollipops
Yep you heard us...savoury lollipops are a fun way to serve delicious appetizers and finger food to your guests. There is something incredibly class,y but also super fun about these savoury lollipop appetizers. Try them at your next event and we're sure your guests will be talking about them for days.
3. Live Chef Food Station
We love working with venues that can create a live chef food station. There are so many different stations you can create - a pasta, fajitas or oysters. What is so great about this idea is guests customize their plate as they prefer and it's always a great centrepiece for an event.
4. Share boards or Charcuterie Platters
Putting out giant share boards of food is a great way to encourage guests to mingle and interact with each other at an event. Plus, share boards are incredibly stunning (everyone will want to get a picture for Instagram) and they let everyone choose the foods they like best. Win, win all around!
5. Luxurious Appetizers
Another favourite is elevated or luxurious appetizers. This is a great way to bring up the level of your event and offer beautiful food for those with developed palettes and a love of food. Plus, you'll keep everyone mingling and trying to find the next round of appetizers.
We hope you enjoyed our fun and creative food ideas. If you have questions about hosting or planning an event in Banff, Canmore or Lake Louise be sure to reach out to us here.